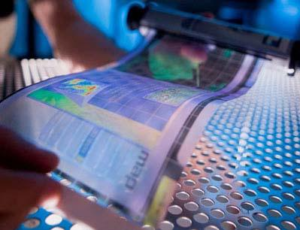 Imagine opening an envelope and pulling out a piece of Mylar that plays a video commercial.  Sound like technology of the future?  It is, but it's the near far future.  HP and the FDC have been working on the flexible screens, using self-aligned imprint lithography (SAIL) technology, which they see being used for future cell phones and e-readers.  But really, like QR Codes, the possibilities are endless.
Last fall Entertainment Weekly used an electronic-ink technology when it included a 40 minute video in an issue.  Their display has been likened to recordable greeting cards.  HP's SAIL will actually make production costs more effective since it allows for printing on rolls rather than sheets, like a newspaper.  And in just the last two months, LG and Sony have come up with their own versions.
What does this mean to you?  Although Volume 23 of MAIL: The Journal of Communication Distribution doesn't currently foresee mail applications, I tend to yet again disagree.  The flexibility and thinness of the plastic allows it to be processed by the machines the post offices use, so why not use them?  I see realtors mailing virtual tours of houses.  I see car dealerships showing off inventory.  I see event coordinators displaying their services.  I see a world of creativity!
Of course, there is still a ways to go before this revolutionary product becomes available for individualization.  But still, the future of direct mail looks bright and full of opportunities.
…I wonder if they'll self destruct too?!